Club Member Meetings
Members are encouraged to participate in monthly meetings, which usually take place on the second Monday of every month.
Due to COVID-19 pandemic all meetings are done via videoconferencing until further notice.
Meeting details are posted on the Club Facebook Group and video conference invitations are sent via email to all members.
Challenges for 2020
Due to COVID-19 pandemic the Board agreed to adjust the challenges to account for the 30% decrease in effort achieved by riding with no drafting, since many members are riding solo or in very small groups at this time. Please note that these adjustments count only if you do not draft at all during the ride. If you are riding in a group and switching the lead, then you must complete the full mileage.
Century Challenge
14 century rides (100 miles) completed at any time between January 1st and December 31st.
Solo only distance is at least 70 miles.
Metric Century Challenge
26 metric century rides (62.1 miles, 100 km) completed at any time between January 1st and December 31st.
Solo only distance is at least 40.7 miles.
Ultra Challenge
Completion of both Century and Metric Century challenges. Single ride may not be counted towards both challenges.
Olympic Challenges
These challenges occur during years which the Olympic Games are held. Both indoor and outdoor miles count.
The challenge is delayed to 2021, because the Olympic Games were delayed.
Events
May Fete
Unfortunately we had to cancel annual May Fete because of the pandemic. Please follow the Facebook Group for event announcements.
Oktoberfest
To be determined.
Holiday Party
To be determined.
Kit
We encourage members to order official Club Kit.
We typically open the kit store in spring and autumn. On occasion we re-design the kit. This year kit was chosen by a vote of club members.
Club kit ordering is currently open until October 26th. If you would like to order the kit, please check the Facebook group for instructions or email us at info@spacecitycycling.club.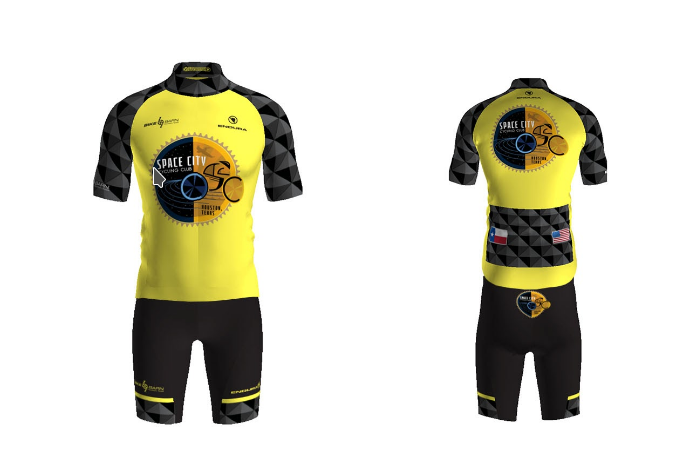 Equipment
The Club lends bike travel cases to active members. Please contact Bike Barn Clear Lake to make reservation.