Club Member Meetings
Members are encouraged to participate in monthly meetings, which usually take place on the second Monday of every month.
Due to COVID-19 pandemic all meetings are done via videoconferencing until further notice.
Meeting details are posted on the Club Facebook Group and video conference invitations are sent via email to all members.
Challenges for 2021
New Year — New Challenges! Club Board decided to keep the challenge qualifications as prior to 2020, full distance has to be finished for a ride to qualify for completed challenge.
Metric Century Challenge
26 metric century rides (62.1 miles, 100 km).
Century Challenge
Choice A: 12 century rides (100 miles), one per every calendar month;
Choice B: 14 century rides, without the monthly century requirement.
Ultra Challenge
Complete Metric Century Challenge + Century Challenge.
Super Ultra Challenge
Complete Ultra Challenge + Double Century (200 miles) Challenge.
Olympic Challenge
All miles, indoor and outdoor, accumulated throughout the year count for this challenge:
6800 — Gold
4600 — Silver
2400 — Bronze
Challenge Rules
Challenges are open to all current club members;
Every challenge must be completed in the calendar year of 2021;
All challenges, except Olympic, must be completed outdoors;
One ride counts towards one challenge category only, except Olympic;
Qualifying ride needs to be completed on the same calendar day;
Submit your rides to secretary@spacecitycycling.club at the end of each month. A form will be available later to make it easy to track your rides;
A link to purchase your challenge jersey will be sent the following year, Olympic Challenge qualifies for t-shirt.
Feel free to post your rides to the Facebook group to share and encourage others.
Events
May Fete
To be determined.
Oktoberfest
To be determined.
Holiday Party
To be determined.
Kit
We encourage members to order official Club Kit. We typically open the kit store in spring and autumn. On occasion we re-design the kit. This year kit was chosen by a vote of club members.
Currently the kit ordering is closed, please check back later or follow group announcements when ordering reopens later this year.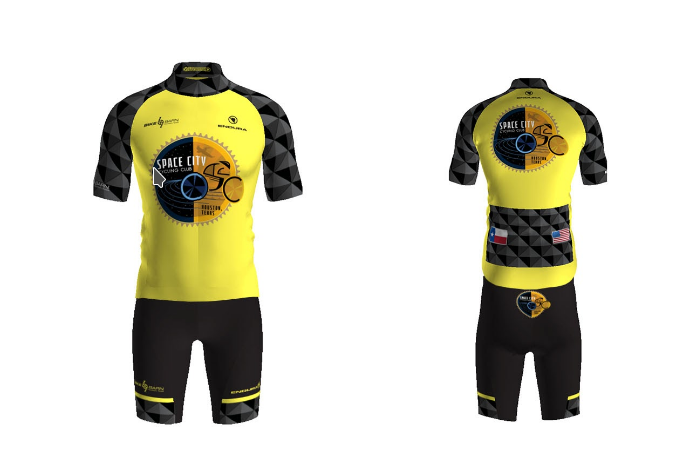 Equipment
The Club lends bike travel cases to active members. Please contact Bike Barn Clear Lake to make reservation.